December 27, 2016
Climate change has achieved its place in the attention of the public and national and international leaders. It will no longer be denied, except by an ever smaller segment of power brokers, who exult in their apparent victory even as events move beyond them.
But first, the news.
Reading Court Watch
The next court hearing in Reading, NY is currently scheduled for January 6, 2017, for Asa Redmond, Richie Stearns, Anne Sierigk, Thomas Seaney, Martha Stettinius and Frances Newton. They were arrested on December 17, 2014. There is a considerable chance that this court date will be cancelled, either by the court or due to winter weather. Please watch this space next week and check in at the We Are Seneca Lake Facebook Events page for the latest developments.
≈≈≈≈≈≈≈≈≈≈≈≈≈≈≈≈≈≈
Sierra Club Added to DEC Lawsuit Challenging Greenidge Restart
New Hearing Date
Greenidge Power Plant, Torrey, NY. CREDIT: U.S. Dept. of Energy
There are several new developments in the lawsuit challenging DEC's environmental review of the restart of the Greenidge power plant on Seneca Lake filed in Yates County Supreme Court.
The lawsuit was filed October 28, 2016 by the Committee to Preserve the Finger Lakes (CPFL) and the Coalition to Protect New York (CPNY). A new petitioner has decided to join the case.
The Sierra Club, a national grassroots conservation organization with more than 40,000 club members in New York, including members who live near the Greenidge power plant and Seneca Lake, has agreed to join CPFL and CPNY. The groups filed notice of an amended petition to add the Sierra Club on December 13.
"The Sierra Club agrees with our members in the Seneca Lake region that the Greenidge plant should not be brought online without a full review of the impacts of operating a gas-fired power plant on the local region and on climate," said Roger Downs, conservation director of the Sierra Club Atlantic Chapter. "We support the efforts of CPFL and CPNY to obtain a full environmental review of this project.
Further reading: Greenidge hearing delayed to Jan. 24, 2017
The first hearing in the case is currently scheduled for January 24 at 2:00 pm at the Yates County Supreme Court building at 415 Liberty Street in Penn Yan before Judge William Kocher.
A copy of the notice of amended petition filed with the Yates County Supreme Court is posted at the Rachel Treichler Law Office website.—Peter Gamba, "Sierra Club Added to Lawsuit Challenging Greenidge Power Plant Restart, New Hearing Date," Sierra Club Atlantic Chapter, 12/19/16
≈≈≈≈≈≈≈≈≈≈≈≈≈≈≈≈≈≈
Spectra Continues AIM Pipeline National Leaders Speak Out on FERC and NRC Inaction
Cortlandt NY- Months behind schedule, Spectra Energy continues round-the-clock work on the Algonquin Pipeline Expansion in Cortlandt, NY. Spectra has finally managed to pull their 42", high pressure fracked-gas pipeline under the Hudson River adjacent to Indian Point Nuclear Power Plant, despite months-long delays and demands from Governor Andrew Cuomo and Senators Schumer and Gillibrand that the work be halted due to risks to public health and safety. Despite this recent progress, the project is still not complete, and fracked gas still is not flowing through the new segment.
Once this portion goes online, there will be gas flowing through the high-pressure pipeline only 105 feet from critical safety infrastructure necessary for the safe operation of Indian Point Nuclear Power Plant. Pipeline and nuclear safety experts identified serious safety and security risks associated with the co-location of this massive high-pressure gas pipeline that crosses Entergy property for 2,159 feet; Congressional representatives, the Governor, and others acknowledged these risks, the Federal Energy Regulatory Commission (FERC) and the Nuclear Regulatory Commission repeatedly ignored them. We continue to urge elected officials and New York agencies to use the powers of their offices to shut down this project. Should a rupture of the pipeline occur near Indian Point, more than 20 million people in the 50-mile evacuation radius, including New York City, could be impacted by a catastrophic radioactive release.
Despite the clear and present danger it poses, Spectra Energy intends to expand its Algonquin Pipeline from New Jersey to Massachusetts where it will connect with other pipelines and export facilities to send fracked methane gas to foreign markets.
Further reading: Indian Point nuclear plant called "disaster waiting to happen"
Serious questions have been raised by Senator Elizabeth Warren and others regarding clear conflicts of interest between FERC and Spectra, with contractors completing critical aspects of the environmental review for the expansion also working for Spectra Energy on the very same expansion. These conflicts clearly call into question FERC, the approval process, and the veracity of the work done to examine the environmental, health, and safety impacts of the expansion.
Further reading: Algonquin pipeline expansion opponents fear catastrophe
The work going on right now, dubbed the Algonquin Incremental Market Expansion (AIM) Project, is months behind schedule, having been riddled with delays, cost overruns, environmental violations, legal wrangling, conflicts of interest, and protests. While Spectra scrambles to salvage the project, the legal suit challenging FERC's approval of the expansion is moving through the legal system, with oral arguments pending in the US Court of Appeals in Washington, DC. The lead plaintiff on that case is the City of Boston, MA, with other plaintiffs including SAPE, Riverkeeper, Food and Water Watch, and over a dozen other grass-roots organizations and impacted residents.
The crux of the legal challenge to the Algonquin Pipeline Expansion is illegal segmentation, a technique used by the fossil fuel industry to avoid a proper accounting of cumulative environmental impacts of large projects. In this instance, Spectra has "broken-up" its planned expansion of the Algonquin Pipeline from New Jersey to Massachusetts into three arbitrarily separated projects: AIM, Atlantic Bridge, and Access Northeast. Maps of the projects from the company are nearly identical, illustrating that they are clearly part of a single, massive expansion. Atlantic Bridge is slated to pick up at the exact location AIM ends, and Access Northeast to pick up exactly where Atlantic Bridge leaves off.
Despite this, FERC has looked the other way and allowed Spectra to submit this large expansion as three stand-alone, independent projects, a clear violation of the National Environmental Policy Act that requires FERC to consider cumulative environmental impacts of projects. This isn't the first time that FERC has been found to have violated NEPA and permitted segmentation of contentious fossil fuel projects, thus strong precedent exists for this legal challenge.
A finding that FERC has violated the law would be a major setback for Spectra Energy, possibly requiring them to halt construction and restart the regulatory approval process for the entire 160 miles of enlarged pipe, as well as new segments.
FERC is now considering the Atlantic Bridge project and a decision is expected at any time, despite the ongoing legal challenge to AIM. In addition to the approval from FERC, Spectra needs a 401 Water Quality Certificate from the New York State Department of Environmental Conservation (NYS DEC), with a May 2017 deadline.
SAPE, SEnRG, Resist Spectra are calling for Governor Cuomo and NYS DEC to deny the permit for the same reasons they denied the permit for the Constitution Pipeline last year. Namely, the cumulative impacts on New York's water from this project violate environmental standards. The Algonquin Pipeline expansion would disturb many hundreds of water bodies, and considered as a whole, would be incredibly detrimental to our water and environment. The project is further tied up in Massachusetts where Spectra has yet to get necessary state permits.
With less than one-third of the Algonquin Pipeline Expansion work complete, a serious legal challenge, significant regulatory hurdles, loss of financing, and strong, multi-state community opposition, it appears unlikely that Spectra will be able to compete this expansion as planned.
Our groups are committed to following through on our opposition to this project that threatens our communities, our environment, our climate, and our commitment to renewable energy.
Action Steps:
Find your local grass roots opposition in New York, Connecticut, Rhode Island, and Massachusetts and get active in the fight to #StopSpectra
Media Contacts:
Amy Rosmarin, Stop the Algonquin Pipeline Expansion (SAPE), 917-572-8543, amyrosmarin@aol.com
Nancy Vann, Safe Energy Rights Group (SEnRG), 914-739-2365, nancy_vann@hotmail.com
Courtney Williams, Resist Spectra , 609-468-7080, resistaim@gmail.com
≈≈≈≈≈≈≈≈≈≈≈≈≈≈≈≈≈≈
DEC Finds EPA's Hudson River Cleanup Fails to Protect Human Health and the Environment
New Report Challenges Effectiveness of EPA's Remedy for PCB Cleanup
DEC calls on EPA to expand PCB investigation to Lower Hudson, renews call for additional sampling to ensure legitimate Hudson River PCB cleanup
The New York State Department of Environmental Conservation (DEC) today released an independent report on the U.S. Environmental Protection Agency's (EPA) review of the cleanup of Polychlorinated Biphenyl (PCB) contamination in the Hudson River (PDF, 221 KB). Using EPA's guidance, DEC finds the cleanup is not protective of the public or the environment. In an effort to improve the cleanup, New York State sent a letter with the report to EPA (PDF, 248 KB) prior to EPA's anticipated release of its Five-Year Review in 2017.
Using EPA criteria for the agency's five year Superfund reviews, DEC determined that high concentrations of PCBs remain in fish in portions of the Hudson River resulting in human health and ecological risks in excess of EPA's acceptable risk range. DEC also found that, as highlighted in a previous Five Year Review, higher than anticipated sediment concentrations will remain after dredging, indicating that the targeted reductions in fish PCB concentrations will not be achieved in the time frames EPA relied upon when choosing the remedial plan for the Hudson River.
"It's simple. DEC is calling on the EPA to finish the job and hold GE accountable for cleaning up the Hudson River," said DEC Commissioner Basil Seggos. "If EPA won't do the job and protect New Yorkers and the environment, DEC is ready to step in and lead."..."DEC's Independent Analysis Finds EPA's Hudson River Cleanup Fails to Protect Human Health and the Environment," New York Department of Environmental Conservation Press Release, 12/20/16
≈≈≈≈≈≈≈≈≈≈≈≈≈≈≈≈≈≈
Critical Momentum
Want to Know How to Build a Progressive Movement Under Trump? Look to Standing Rock
Winter in Standing Rock at the Oceti Sakowin Camp in North Dakota, the day after the Army Corps of Engineers denied the easement needed to build the pipeline, December 5, 2016. (AP Images / Michael Nigro)
One week after the election, when the world felt thick with despair, I spoke on the phone to LaDonna Allard. It was a jolt. Allard is the co-founder of the Sacred Stone Camp, on the border of the Standing Rock Sioux Tribe's reservation in North Dakota, where water protectors have been gathered since April to block Energy Transfer's Dakota Access pipeline. I was writing an article about how the Trump administration might bolster the pipeline and undercut the movement blossoming in her backyard. Was she worried?
"No," she spat, like a sillier question had never been posed. This was a radical departure from the foreboding I had encountered in everyone else for a week. "We've been fighting the US government since they stepped onto our country," she said. "We've never had a voice, but we've always been protecting our resources and standing up for our water. Nothing changes."
This was a reminder that, while the election ushered in a new political order, much of what awaits us—the attacks on civil liberties, the repression of political dissent, and the rollback of legal and regulatory protections for ordinary people against corporations—is old for communities like Standing Rock. What can we learn from their struggle? Bombarded for months with tear gas, sound cannons, rubber bullets, and water hoses (often in freezing temperatures, no less), the camp at Standing Rock grew from around 10 in April to thousands by fall. They transformed what might have otherwise been a remote, invisible, rural struggle into national headline news.
The camp has been called the largest gathering of Native Americans in recent history, mobilizing many who had never before been part of a political movement, and drawing urban supporters nationwide—native and non-native—to their cause. In December, the Obama administration finally succumbed to the pressure, denying Energy Transfer the permit to drill under the Missouri River near the reservation. This had been the tribe's main concern: The crossing threatened their water supply, and that of many others.
The political landscape is about to change: The Trump administration has promised to target native reservations for their oil and gas reserves, dismantle the Environmental Protection Agency, and push through a range of new pipelines, including Keystone XL. This will undoubtedly make the work of indigenous and environmental activists more difficult. And at a time when climate scientists say that limiting global temperature increases to internationally agreed-upon levels will require keeping all remaining oil reserves in the ground, this is also a hard shove toward climate disaster. But whatever the fate of the pipeline or the movement, it would be a mistake not to count Standing Rock's achievements as victories.
In the wake of the election, liberals and leftists have been debating whether racial divisions fractured the working class and handed victory over to a racist demagogue. But I'm more interested in another question: What is there to learn, for our next four years, from a struggle rooted in native leadership and native rights, which also fought to protect the environment on behalf of all Americans? What can be gleaned from a movement that won at virtually the same moment that progressives lost?
Building the Movement We Need
The debate about racial divisions in the election has exploded, cluster bomb–like, across the liberal Internet. The argument boils down to a simple question: How did Hillary Clinton lose the white working-class vote, and how can the Democrats win them back?
One side, best exemplified by Mark Lilla in The New York Times argues that identity politics—"calling out explicitly to African-American, Latino, LGBT and women voters at every stop"—cost the Democrats the election by alienating white working-class voters. Instead, Lilla calls for a "post-identity liberalism" that would focus on "emphasizing the issues that affect a vast majority of" Americans.
At Slate, Jamelle Bouie countered Lilla's model for a reinvigorated Democratic party with one of his own: Jesse Jackson's 1984 and 1988 presidential campaigns. As Bouie argues, a liberalism that doesn't "engage with the specific problems of black workers or undocumented immigrants" will always fail to speak to a majority of Americans. Jackson's campaigns recognized the unique problems of African-Americans—and of women, white farmers, gays and lesbians, and more—but framed them in a way that made each group's struggle an integral part of a larger one.
According to Bouie, this kind of approach is so vital because low wages and an eroding social safety net indeed affect all workers, but black workers (and other workers of color) also face additional discrimination in securing jobs, education, housing, and health care. These disadvantages are different in kind—not just magnitude—from what white workers experience. Hence, black workers need both "specific and universal solutions," expressed through "a politics that addresses all material disadvantage, whether rooted in class or caste."
What form has this kind of "material disadvantage" taken at Standing Rock? It's hard to know where to begin. The reservation—remote and economically-depressed—is home to an epidemic of homelessness, suicide, unemployment, and hopelessness, with 43 percent of residents living below the poverty line . Some have claimed that North Dakota's strict voter-ID laws discriminate against Native Americans. The reservation is also surrounded by conservative white towns: Many tribe members perceive the state capitol, Bismarck, just an hour north from the encampment, as notoriously racist.
Nationwide, Native Americans experience rates of poverty comparable to that of blacks and Hispanics—26 percent —and are more likely to be killed by police than any other group, including African Americans. What are the roots of these "disadvantages"? When I met Allard on the reservation in September, she recalled seeing her grandparents cry in the late-1950s, after the Army Corps flooded hundreds of thousands of acres of local reservation lands to build several dams. Many of the tribe's most valuable natural resources were inundated (timber, wildlife, and fertile cropland), and entire tribal communities were forced to relocate. For Allard, this was an uncanny echo of the genocide her ancestors faced, when native lands were expropriated in service of America's westward expansion. Now she perceives another echo in the Dakota Access pipeline. Originally meant to traverse the Missouri River north of Bismarck, city residents complained that it would threaten their municipal water supply, and the pipeline was rerouted to nearer the Standing Rock reservation in September 2014. It is significant that Bismarck is 92.4 percent white....—Andrea Lim, "Want to Know How to Build a Progressive Movement Under Trump? Look to Standing Rock," The Nation, 12/20/16
≈≈≈≈≈≈≈≈≈≈≈≈≈≈≈≈≈≈
President Obama bans oil drilling in large areas of Atlantic and Arctic oceans
Hundreds of kayaktivists protest drilling in the Arctic and the Port of Seattle being used as a port for the Shell Oil drilling rig Polar Pioneer (Daniella Beccaria/seattlepi.com via Associated Press)
President Obama moved to solidify his environmental legacy Tuesday by withdrawing hundreds of millions of acres of federally owned land in the Arctic and Atlantic Ocean from new offshore oil and gas drilling.
Obama used a little-known law called the Outer Continental Shelf Lands Act to protect large portions of the Chukchi and Beaufort seas in the Arctic and a string of canyons in the Atlantic stretching from Massachusetts to Virginia. In addition to a five-year moratorium already in place in the Atlantic, removing the canyons from drilling puts much of the eastern seaboard off limits to oil exploration even if companies develop plans to operate around them.
The announcement by the White House late in the afternoon was coordinated with similar steps being taken by Canadian Prime Minister Justin Trudeau to shield large areas of that nation's Arctic waters from drilling. Neither measure affects leases already held by oil and gas companies and drilling activity in state waters.
Further 'on the other hand' reading:
"These actions, and Canada's parallel actions, protect a sensitive and unique ecosystem that is unlike any other region on earth," the White House said in a statement. "They reflect the scientific assessment that, even with the high safety standards that both our countries have put in place, the risks of an oil spill in this region are significant and our ability to clean up from a spill in the region's harsh conditions is limited."
White House officials described their actions to make the areas off limits to future oil and gas exploration and drilling as indefinite. Officials said the withdrawals under Section 12-A of the 1953 act used by presidents dating to Dwight Eisenhower cannot be undone by an incoming president. It is not clear if a Republican-controlled Congress can rescind Obama's action.
Further reading:
"There is a precedent of more than half a century of this authority being utilized by presidents of both parties," a White House aide said. "There is no authority for subsequent presidents to un-withdraw. . . . I can't speak to what a future Congress will do."...—Darryl Fears, Juliet Ellperin, "President Obama bans oil drilling in large areas of Atlantic and Arctic oceans," The Washington Post, 12/20/16
≈≈≈≈≈≈≈≈≈≈≈≈≈≈≈≈≈≈
Massachusetts politicians, environmental groups target ExxonMobil on climate change
Exxon Mobil chief executive Rex Tillerson, pictured in 2008, has been nominated by President-elect Donald Trump to serve as Secretary of State. CREDIT: Brian Harkin/Getty Images
When he faced off with Exxon Mobil chief executive Rex Tillerson 6 ½ years ago, Edward J. Markey seized on walruses, to great effect.
Then chairman of a House subcommittee investigating the BP oil spill, Markey highlighted the sloppiness of four oil companies' spill-response plans — nearly identical reports produced by one consultant, all featuring the same cringe-worthy reference to saving walruses in the Gulf of Mexico.
"As I am sure you know, there aren't any walruses in the Gulf of Mexico, and there have not been for 3 million years," Markey said, eliciting from the iron-jawed Tillerson this deadpan utterance: "It's unfortunate that walruses were included."
Further reference: I Am The Walrus
And Massachusetts environmental leaders and politicians, who had already cast Exxon Mobil as their lead villain in the story of climate change, are relishing the new forum for their ongoing fight against Big Oil.
Massachusetts activists have been trying to make an example of Exxon Mobil, through various legal efforts aimed at faulting the company for failing to prepare the world for the established effect of its products' use: climate change.
In the first lawsuit of its kind, filed in September, the Boston-based Conservation Law Foundation contends Exxon Mobil has failed to prepare for rising sea levels and severe weather caused by climate change, potentially exposing the public to toxic breaches around its oil terminal on the Mystic River in Everett. While the lawsuit focuses on local concerns, its aim is clearly sweeping.
The lawsuit, the foundation says on its website, sets a precedent "for the dynamic role of local advocacy in taking down global giants."...—Stephanie Ebbert, "Massachusetts politicians, environmental groups target ExxonMobil on climate change," The Boston Globe, 12/19/16
≈≈≈≈≈≈≈≈≈≈≈≈≈≈≈≈≈≈
Climate Denial Rides Trump's Coattails to a Roaring Comeback
The election of Donald Trump has provided a remarkable reversal of fortune for climate change denialists, only a year after nearly 200 nations including the United States committed to a zero-carbon future and their days seemed numbered. Credit: REUTERS/Shannon Stapleton
As the nation heads toward a Donald Trump presidency, environmental advocates and their political allies are grappling with a presence set to loom large in the nation's policy-making. It's a set of viewpoints that had been teetering on the edge of irrelevance under President Obama: the resurgent climate denial movement.
Over the last month, that viewpoint not only rushed back into the mainstream, it threatens to dominate Trump's cabinet. He has filled his transition team and top energy and environment posts (among others) with a litany of climate science denialists who oppose government action on global warming, including former Texas Gov. Rick Perry (Department of Energy), Oklahoma Attorney General Scott Pruitt (Environmental Protection Agency), and Montana Rep. Ryan Zinke (Department of Interior).
Trump's team so far includes people with such extreme anti-climate views that by comparison, Trump's nominee for secretary of state, ExxonMobil chief executive Rex Tillerson, is being hailed by some as a beacon of hope for climate action. Tillerson, speaking for Exxon, has voiced acceptance of climate change, making him one of the only Trump cabinet nominees accepting the consensus of 97 percent of the world's scientists. Still, his company is under investigation for misleading investors during its long history of opposing climate action....—Marianne Lavelle, "Climate Denial Rides Trump's Coattails to a Roaring Comeback," InsideClimate News, 12/15/16
≈≈≈≈≈≈≈≈≈≈≈≈≈≈≈≈≈≈
World Energy Hits a Turning Point: Solar That's Cheaper Than Wind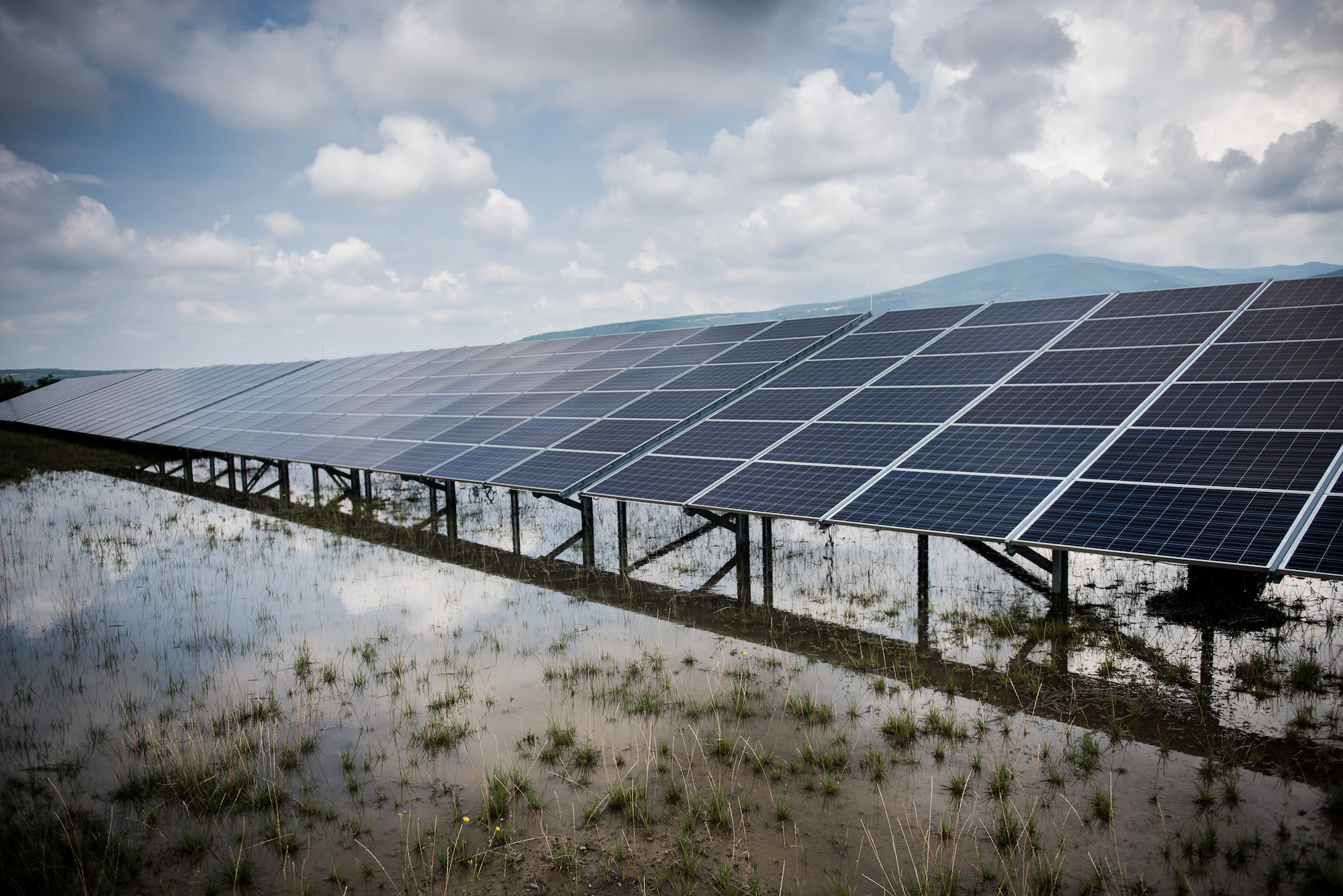 Photographer: Akos Stiller/Bloomberg
A transformation is happening in global energy markets that's worth noting as 2016 comes to an end: Solar power, for the first time, is becoming the cheapest form of new electricity.
This has happened in isolated projects in the past: an especially competitive auction in the Middle East, for example, resulting in record-cheap solar costs. But now unsubsidized solar is beginning to out compete coal and natural gas on a larger scale, and notably, new solar projects in emerging markets are costing less to build than wind projects, according to fresh data from Bloomberg New Energy Finance.
The chart below shows the average cost of new wind and solar from 58 emerging-market economies, including China, India, and Brazil. While solar was bound to fall below wind eventually, given its steeper price declines, few predicted it would happen this soon.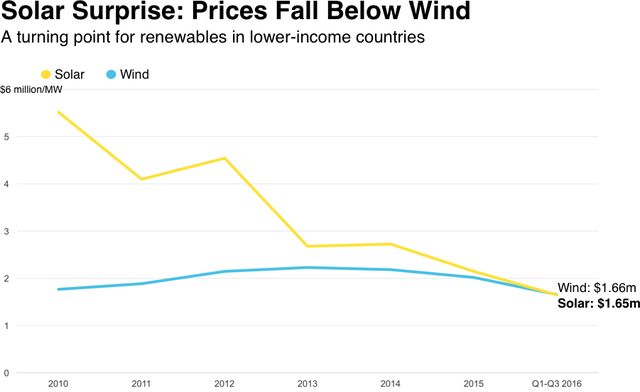 Disclosed capex for onshore wind and PV projects in 58 non-OECD countries. Click for full view Source: Bloomberg New Energy Finance
"Solar investment has gone from nothing—literally nothing—like five years ago to quite a lot," said Ethan Zindler, head of U.S. policy analysis at BNEF. "A huge part of this story is China, which has been rapidly deploying solar" and helping other countries finance their own projects.
Half the Price of Coal
This year has seen a remarkable run for solar power. Auctions, where private companies compete for massive contracts to provide electricity, established record after record for cheap solar power. It started with a contract in January to produce electricity for $64 per megawatt-hour in India; then a deal in August pegging $29.10 per megawatt hour in Chile. That's record-cheap electricity—roughly half the price of competing coal power.
"Renewables are robustly entering the era of undercutting" fossil fuel prices, BNEF chairman Michael Liebreich said in a note to clients this week.
Those are new contracts, but plenty of projects are reaching completion this year, too. When all the 2016 completions are tallied in coming months, it's likely that the total amount of solar photovoltaics added globally will exceed that of wind for the first time. The latest BNEF projections call for 70 gigawatts of newly installed solar in 2016 compared with 59 gigawatts of wind.
The overall shift to clean energy can be more expensive in wealthier nations, where electricity demand is flat or falling and new solar must compete with existing billion-dollar coal and gas plants. But in countries that are adding new electricity capacity as quickly as possible, "renewable energy will beat any other technology in most of the world without subsidies," said Liebreich.
Turning Points
The world recently passed a turning point and is adding more capacity for clean energy each year than for coal and natural gas combined. Peak fossil-fuel use for electricity may be reached within the next decade.
Thursday's BNEF report, called Climatescope, ranks and profiles emerging markets for their ability to attract capital for low-carbon energy projects. The top-scoring markets were China, Chile, Brazil, Uruguay, South Africa, and India....—Tom Randall, "World Energy Hits a Turning Point: Solar That's Cheaper Than Wind," Bloomberg, 12/15/16
≈≈≈≈≈≈≈≈≈≈≈≈≈≈≈≈≈≈
Anadarko Petroleum: The Marcellus Divestiture Disappoints, Reflects Challenging Marcellus North Price Environment
Summary
Anadarko receives $1.24 billion for nearly a 0.5 Bcf/d of existing gas production and nearly 200,000 net held by production acres.

While no cash flow data was provided, the low valuation likely reflects weak margins.

The non-operated nature of an important part of the assets contributes to the unexpectedly weak outcome.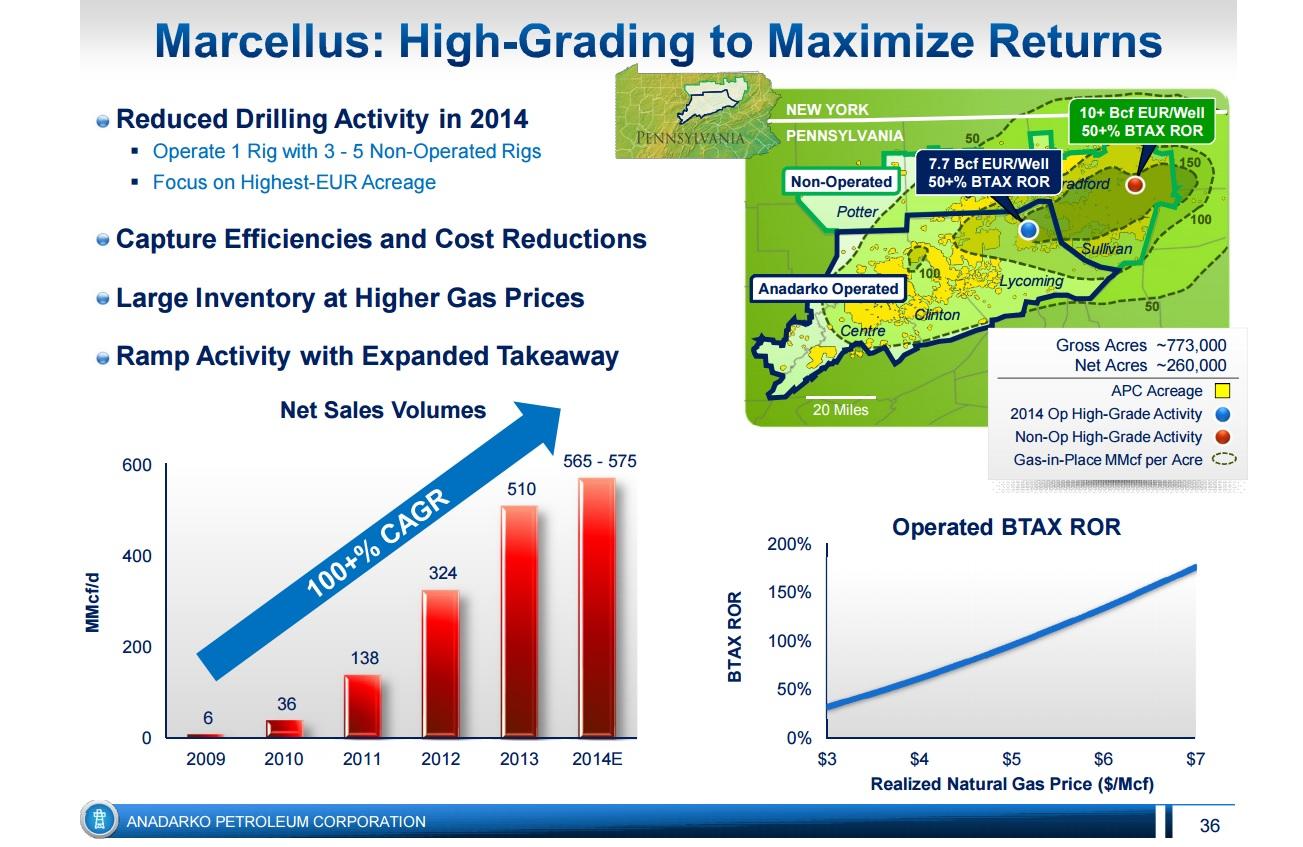 Click for full view (Source: Anadarko Petroleum, February 2016)]
The relatively low price received by Anadarko Petroleum (NYSE:APC) in its divestiture of the Marcellus Shale assets puts the spotlight on the challenging margin environment in the Marcellus North and may indicate the company's and strategic buyers' pessimistic view with regard to regional differentials in the Northeast, the Marcellus North in particular.
The Transaction
In the December 21 press release, Anadarko announced it has agreed to sell its "operated and non-operated upstream assets and operated midstream assets" in the Marcellus Shale for ~$1.24 billion. The midstream assets owned by Western Gas Partners (NYSE:WES), APC's sponsored master limited partnership, which represent the larger part of Anadarko-controlled midstream assets in the Marcellus, are not part of the sale.
The divestiture includes ~195,000 net acres and associated dry gas production of approximately 470 million cubic feet per day, as of the end of the third quarter of 2016. Given the significant, moderate-decline existing production, Anadarko appears to be receiving little value for the remaining development potential that the properties offer.
As one can see from a slide from Anadarko's older (November 2014) presentation, the company's most prolific acreage in Bradford and Sullivan Counties, Pennsylvania, is mostly non-operated. Still, the core portion of the acreage is meaningful in size and appears to offer significant development backlog in the event regional differentials in the Marcellus North area improve meaningfully.
The buyer in the transaction is private equity-backed Alta Resources Development, LLC, an operating entity with a strong track record of shale property acquisitions and subsequent exits via sales.
What Is Driving The Unexpectedly Low Sale Price?
The non-operated nature of a large portion of the acreage is an important consideration in understanding the outcome of this transaction. It likely explains why the winning bid comes from a private equity-backed entity and not from another Marcellus operator.
It is worth noting that a large portion of the non-operated acreage - which also happens to be the most prolific portion of the package - falls within areas dominated by Chesapeake Energy (NYSE:CHK). Arguably, Chesapeake would be the most logical acquirer for the assets. However, the company's financial constraints and significant existing exposure to the Marcellus North likely handicapped its ability (and, possibly willingness) to participate. The map of Chesapeake's acreage is shown below: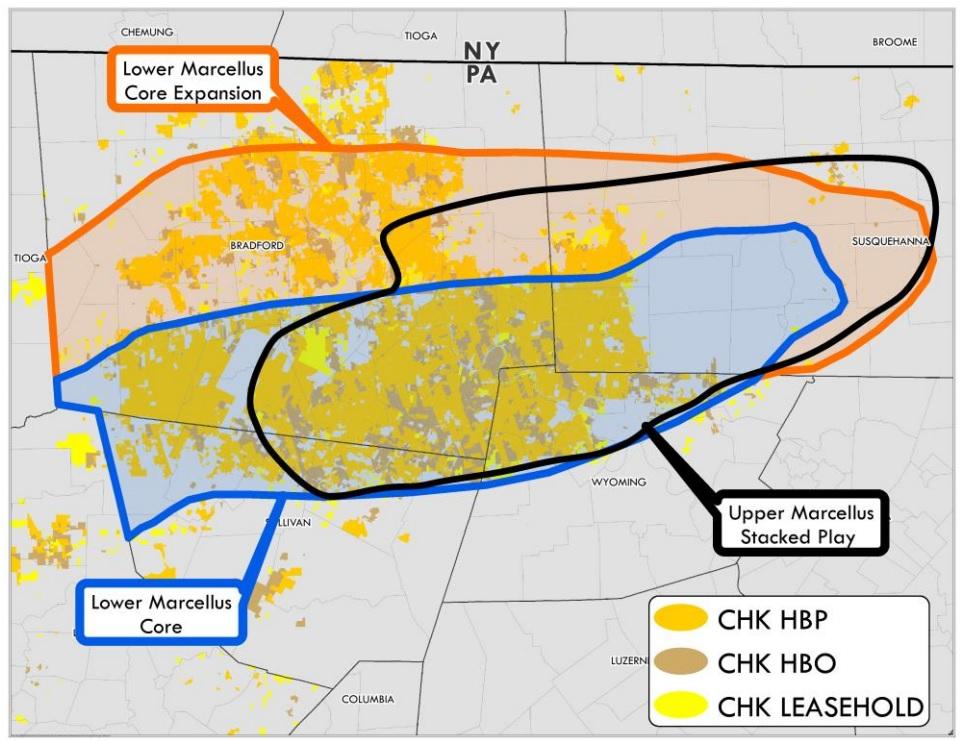 Click for full view (Source: Chesapeake Energy, October 2016)
Another major factor impacting the valuation is the outlook for Marcellus North price differentials. The slide from Anadarko's presentation at the top of this note suggests that a realized price in the $2.50/Mcf range would be required for new drilling to generate competitive returns on investment. Using current futures pricing, the average Henry Hub price for the five-year period beginning January 2018 is $2.91/Mcf. Even if one were to assume that basis differentials for volumes sold locally in the Marcellus North would contract to $0.50 per Mcf for the same period, only select, mostly non-operated areas within Anadarko's acreage would likely be able to compete for capital.
Finally, CHK's high-price midstream contracts, if they also apply to Anadarko's volumes operated by Chesapeake, could be a significant factor impacting the valuation. High midstream fees under long-term dedications could depress cash flows from both existing and future production.
Implications For Anadarko
The sale of the Marcellus assets by Anadarko is not unexpected. The Marcellus has received very little capital allocation in the company's budget over the last two years. In 2015, the company drilled just one operated well and participated in 18 non-operated wells in the Marcellus. No operated drilling activity occurred in 2016....—Richard Zeits, "Anadarko Petroleum: The Marcellus Divestiture Disappoints, Reflects Challenging Marcellus North Price Environment - Anadarko Petroleum Corporation (NYSE:APC)," Seeking Alpha, 12/23/16
≈≈≈≈≈≈≈≈≈≈≈≈≈≈≈≈≈≈
How Climate Change Erodes Our National Security
In this talk, Admiral Titley will explore the direct and indirect ways that climate change erodes U.S. national security and how the U.S. military plans to mitigate the risks associated with climate change. A professor of meteorology and founding director of the Center for Solutions to Weather and Climate Risk at Penn State, Titley is a member of the Advisory Board of the Center for Climate and Security. Prior to joining Penn State, Titley was chief operating officer of the National Oceanic and Atmospheric Administration and the chief oceanographer of the U.S. Navy, in which he served for 32 years. He initiated and led the U.S. Navy's Task Force on Climate Change.—Adm. David Titley, "How Climate Change Erodes Our National Security," Foreign Policy Research Institute, 10/6/16
≈≈≈≈≈≈≈≈≈≈≈≈≈≈≈≈≈≈
The Arctic Is Unraveling,' Scientists Conclude After Latest Sobering Climate Report
Secretary of State John Kerry, center, visited Norway this year, witnessing the impacts of a melting Arctic. Credit: Getty Images
The ill winds of climate change are irrevocably reshaping the Arctic, including massive declines in sea ice and snow and a record-late start to sea ice formation this fall. Those were the sobering conclusions of the 2016 Arctic Report Card released Tuesday.
The report card is sponsored by the National Oceanic and Atmospheric Administration (NOAA) and co-authored by more than 50 scientists from Asia, North America and Europe. The data shows that the Arctic is warming at double the rate of the global average temperature. Between October 2015 and September 2016, temperatures over Arctic land areas were 2.0 degrees Celsius above the 1981-­2010 baseline, the warmest on record going back to 1900.
The report, released at the American Geophysical Union meeting in San Francisco, clearly links the Arctic heatwave to a record-late start to formation of sea ice this fall, and to record high and low seasonal snow cover extent in the Northern Hemisphere. If the extreme warmth recorded in the Arctic this fall persists for the next few years, it may signal a completely new climate in the region, scientists said.
Further reading: Spiking Temperatures in the Arctic Startle Scientists
Jeremy Mathis, director of NOAA's Arctic Research Program, said the report highlights the clear and pronounced global warming signal in the Arctic and its effects cascading throughout the environment, like the spread of parasitic diseases in Arctic animals.
"We've seen a year in 2016 like we've never seen before ... with clear acceleration of many global warming signals. The Arctic was whispering change. Now it's not whispering. It's speaking, it's shouting change, and the changes are large," said co-author Donald Perovich, who studies Arctic climate at Dartmouth College....—Bob Berwyn, "'The Arctic Is Unraveling,' Scientists Conclude After Latest Sobering Climate Report," InsideClimate News, 12/13/16
≈≈≈≈≈≈≈≈≈≈≈≈≈≈≈≈≈≈
Azarga Uranium Stakeholders Indicted; NRC Requires Tribal Consult, Capping of 7,500 Boreholes
Map of proposed Azarga uranium mining operation, marked in yellow, northwest of Edgemont, SD. Click for full view. CREDIT: AzargaUranium.com
Azarga Uranium (formerly Powertech) opened December telling its investors they were a step closer to finally mining uranium in the Dewey Burdock region north of Edgemont. But now Azarga is having a blue Christmas. First John Tsitrian reports that the company's biggest stakeholder, New York/Cayman Islands hedge fund Platinum Partners, just saw its principals indicted for defrauding its investors. The Nuclear Regulatory Commission rules today that Azarga didn't properly consult with American Indian tribes about the impact their in situ leach uranium mining may have on cultural and historical resources important to the tribes. That ruling doesn't revoke Azarga's license, but it does delay the project, as the NRC has to formally consult with the Oglala Sioux Tribe.
What looks like a much bigger kink in Azarga's hose is the NRC's ruling that Azarga must cap around 7,500 existing boreholes from previous uranium mining activity on the Dewey-Burdock site. Dakota Rural Action, which opposes Azarga's mining plan, is pleased:
If these holes were not plugged and mining occurred, there would be a high risk of water contamination outside the mining area. According to research by an expert witness in the case, Dr. Hannan LaGarry, there are approximately 7,500 old boreholes on the proposed mine site. "I'm heartened to see the NRC is holding firm on the requirement that the company plug the 7,500 old boreholes," said Gena Parkhurst of Dakota Rural Action, Black Hills Chapter. "Based on expert opinion, the proposed uranium mine in the area of the Fall River/Custer county border could seriously threaten our precious water supplies – there could be both contamination and depletion of our aquifers" [Dakota Rural Action, press release, 2016.12.23]....—Cory Heidelberger, "Azarga Uranium Stakeholders Indicted; NRC Requires Tribal Consult, Capping of 7,500 Boreholes," Dakota Free Press, 12/23/16
≈≈≈≈≈≈≈≈≈≈≈≈≈≈≈≈≈≈
Trump says energy regulations are hurting economic growth. The evidence says otherwise
Scott Pruitt, the attorney general of Oklahoma, arrives to meet with U.S. President-elect Donald Trump at Trump Tower in New York City, Dec. 7. (Reuters/Brendan McDermid)
"I will cancel job-killing restrictions on the production of American energy, including shale energy and clean coal, creating many millions of high-paying jobs," says President-elect Donald Trump. For his part, his nominee to head the Environmental Protection Agency, Scott Pruitt, has argued that growth and regulation are fundamentally at odds. "The American people are tired of seeing billions of dollars drained from our economy due to unnecessary EPA regulations," he said.
The assumption they are making is that economic growth depends upon increasing carbon emissions. Trump and Pruitt seem to believe that because energy is essential for economic development, increasing its production by any means will boost the economy, and that limiting it in any way—as through emission controls—will hurt it.
The two are wrong on both counts.
Thanks to decades of innovation, smart regulation, and technology investment, the nation can grow and decarbonize at once. The key is to accelerate the move to low-carbon technology by strengthening—not eliminating—the rules and technology investments that are driving it.
Far from being a prohibitive drag on economic growth, de-carbonization, or making the way that we get energy less dependent on burning fossil fuels that release carbon emissions, has gone hand-in-hand with output growth in most of the United States, according to research by the Brookings Institution. From 2000 to 2015, U.S. GDP grew by 30 percent though emissions declined by 10 percent.
Further reading:
Skeptics will argue that the nation's economic growth would have been even faster if there had been less focus on low-carbon technology and carbon regulation, such as restrictions on emissions from coal-fired power plants. But the Brookings state-by-state interactive shows that, even in a period of what Pruitt deems regulatory "overreach," the pace of economic growth has accelerated.
As of 2007, only 14 states had decoupled their economic growth from their emissions. This number increased to 34 by 2014, with states such as California, Georgia, New Hampshire, South Carolina, and Virginia joining the mix. These states expanded their economies by 22 percent even as they reduced emissions by nearly 12 percent.
And get this: 22 of the 34 newly decoupled states have been growing faster in the recent 2000–2014 period than they were in the previous 14 years. In short, de-carbonization—prompted in part by federal and state regulations—has been accompanied by faster growth in many states. That is, economic growth has been accelerating not in spite of the changes leading to emissions reduction, but along with them. So much for the assumed growth–emissions trade-off.—Vivek Wadhwa, Mark Muro, "Trump says energy regulations are hurting economic growth. The evidence says otherwise," The Washington Post, 12/21/16
≈≈≈≈≈≈≈≈≈≈≈≈≈≈≈≈≈≈
Abandoned Texas oil wells seen as "ticking time bombs" of contamination
In June of 2016, a thick black substance paints the land around an abandoned well that the Middle Pecos Groundwater Conservation District has asked the Texas Railroad Commission to plug. Rafael Aguilera For the Texas Tribune
Peculiar things can happen after folks drill deep into the earth — looking for oil, water or whatever — and leave a bunch of holes in the ground. Fluids can gurgle and leak, migrating where they don't belong. In rare instances, land could even sink or collapse.
The oddest unintended consequences tend to bubble up in this pockmarked slice of West Texas, where wildcatters started poking holes in the ground nearly a century ago.
"If this stuff was even close to Austin, hell, it'd be national news," said Ty Edwards, the fresh-faced assistant general manager of the Middle Pecos Groundwater Conservation District, as he barreled down an empty stretch of highway during a June tour of the some of the standouts.
Texas, the nation's petroleum king, is home to nearly 300,000 wells currently pumping oil, gas and dollars into the economy. But those are hardly the only holes that petroleum companies have bored into the Texas landscape. As far back as 1990, Texas touted more than 1.5 million oil and gas-related holes, including hundreds of thousands of test wells, service wells and those that came up dry.
And even prolific wells don't always pump forever.
When most wells end their service, no big deal. Operators plug them, limiting pollution threats, and move on. But when companies leave their wells open, a practice predating Spindletop and other prodigious early strikes, that's another story.
Amid a recent oil market crash that followed years of frenzied drilling, Texas is among several states — including Louisiana and Oklahoma — grappling with a surge of abandoned drilling sites and dwindling funds to clean them up.
Occasionally, the wells yield pollution you can see: oil, brackish water or other smelly substances leaking onto the land. But the biggest threats lie thousands of feet underground: the possible, but tough-to-detect migration of oil and other toxic minerals into aquifers or water supplies.
Not every abandoned well threatens groundwater. But in some oilfields, they "can be ticking time bombs," said Ronald Green, a hydrologist at the Southwest Research Institute, a private research organization in San Antonio. And as boom-and-bust cycles continue across Texas drilling fields, walling off water sources from potential contamination will only get harder....—Jim Malewitz, "Abandoned Texas oil wells seen as "ticking time bombs" of contamination," The Fort Worth Star-Telegram, 12/22/16
≈≈≈≈≈≈≈≈≈≈≈≈≈≈≈≈≈≈
Is The Threat Of The Dakota Access Pipeline Real?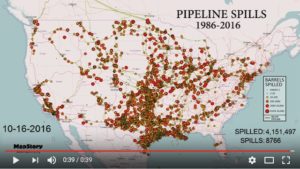 Pipeline Spills, 1986-2016. Click for animated history
A couple months ago, I attended a protest against the Dakota Access Pipeline, which was being constructed near my town of Ames, Iowa. As I watched friends getting arrested in nonviolent demonstrations, I had so many questions ― does this pipeline really pose a threat to land and water?
With the controversy over the recent denial of the permit to cross the Missouri River at Standing Rock, and the requirement for the pipeline to undergo an environmental review, and with the prospects of efforts to build new pipelines after the Trump administration takes office, answering this question is as important now as ever.
My suspicion was that pipeline accidents are rare, but as I investigated, I found that they actually happen all the time. As shown in the mapstory I produced above, in the last 30 years, there have been over 8,700 liquid pipeline spills, averaging nearly one every day.
One, in fact, happened recently only 150 miles from Standing Rock, where over 4,200 barrels (180,000 gallons) spilled into a river. And the spills add up – if the 4.2 million barrels (176 million gallons) that have spilled in the last 30 years were counted as a single spill, it would be the third largest in history, right under the Deepwater Horizon oil spill of 2010, when 4.9 million barrels spilled in the Gulf of Mexico.
Though they may be dwarfed by the larger clean water issues of farm runoff, oil spills poses a great risk to any place they cross. Many pipelines carry hazardous liquids like crude oil, which are hard or impossible to clean up, and some carry compressed gases, which evaporate when leaked, but can still cause ecological harm. Everything from equipment failures to bad weather to accidents can cause a spill, and they have indeed destroyed farms, and polluted rivers and groundwater.
Opponents of the Dakota Access Pipeline have been saying that it's not a matter of if the pipeline would spill, but when. And a spill might be large ― most pipeline spills are under 20 barrels (under 1,000 gallons), but dozens happen every year that are thousands of barrels. Unsurprisingly, the size of oil spills increases with the size of the pipeline, and the pipelines that have been proposed in recent years are very large ― if the Dakota Access Pipeline is operational, it would deliver 470,000 barrels a day.
The likelihood of an accident is something oil companies concede ― when the Keystone XL pipeline was proposed in 2011, the pipeline company estimated that there would be a likelihood of 11 significant spills (over 50 barrels) over its 50-year lifetime.
Further research: Pipeline Safety Tracker
Critics charged that the estimates were low ― an independent assessment by University of Nebraska professor Dr. John Stansbury claimed that a more likely number would be 91 significant spills when looking at the actual incidence of spills on comparable pipelines with the same data that was used to make the mapstory above.
Dr. Stansbury's assessment went further and claimed that it would take 10 times longer to shut down a pipeline than the company's estimate, and provided worst-case scenarios, including one where 120,000 barrels could spill into the Missouri River, and 180,000 could spill in the Nebraska Sandhills, seeping into the Ogallala Aquifer, one of the largest groundwater sources in the world. The Keystone XL Pipeline would have carried 830,000 barrels per day, and was rejected by the Obama administration.
What are the chances of a scenario where the Dakota Access Pipeline or a similar pipeline were to spill into a water body? Spills are spread across 190,000 miles of pipelines, and very small portions go over rivers. The likelihood of a pipeline spill affecting drinking water by the Missouri River may not be huge, but it is there.
Opponents feel that any threat is a threat ― and the threat is large. And water contamination does happen. Pouring over the tables, I found that since 2002, when the government started detailing environmental effects, over 10 percent of the spills seeped into water bodies, totaling over 145,000 barrels. The largest happened in Michigan in 2010, when a pipeline deteriorated and spilled over 20,000 barrels of crude oil, over 8000 of which spilled into the Kalamazoo River....—Nitin Gadia, "Is The Threat Of The Dakota Access Pipeline Real?" The Huffington Post, 12/16/16
≈≈≈≈≈≈≈≈≈≈≈≈≈≈≈≈≈≈
And That's A Wrap! The final issue for this year. Your editor wishes you a happy new year. And hopes you will keep sending stories, news, your own writing, along with egg nog (organic from grass-fed rBGH-free cows, please) to banner@wearesenecalake.com